As the Covid-19 pandemic continues to spread, face protective masks have become essentials in our life and handheld inkjet printers in the meantime have become a good solution to stand out personal characteristics and even brand images for enterprises by printing owner information, company logos, individual designs, date of issue and origin of the mask, etc. on the masks. 
What can a handheld printer do?
Before we discuss how mobile inkjet marking printer are applied in protective mask business, we should know what can a handheld printer do for you first.
Basically, there are 3 main parts that can best describe a mobile inkjet printer's wonders.
● Mobility and Flexibility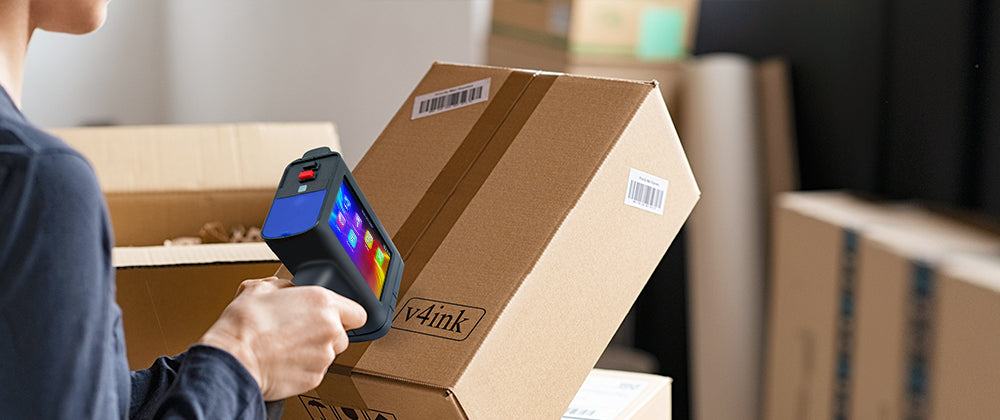 The first and foremost feature of handheld portable printers is their mobility. Unlike traditional printers that are bulky, handheld marking devices are usually light and easy on the go. Plus, most of them are sustained by rechargeable batteries, which means they can work either unplugged or under charging, enabling you to print whenever you want without any work progress being slowed down.
Besides, good portable handheld coding machines also are easy to operate, ink cartridge replacing are extremely easy and swift, saving your time and energy to do what helps your business.
●

 Various Customized Contents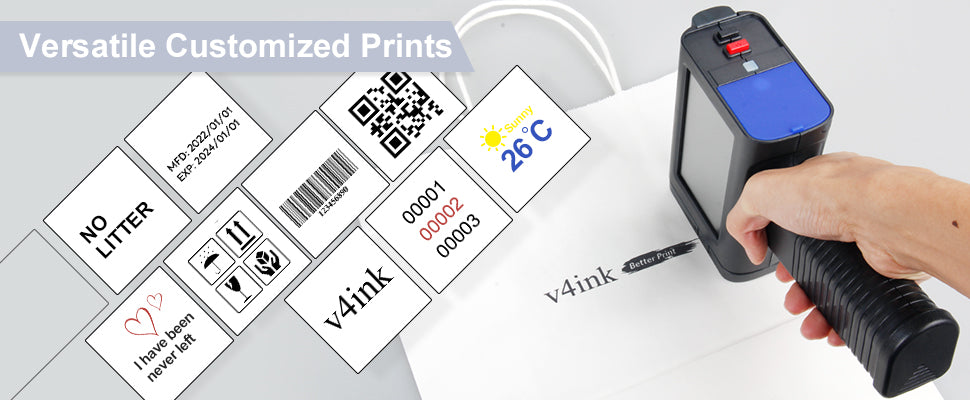 Handheld inkjet printers can print multiple contents, take v4ink handheld coding printers for instance, they can print text, number, date, time, QR code, barcode (UPC code), picture, icon, logo, etc. to fulfill various printing needs.
Depending on different models, handheld printers usually can print from at least 2.5mm to 100mm in height and multiple lines at a time. You can even combine contents, for example, text + QR code or date + text to make your own unique prints.
●

 Endless 

Applications
Most of the handheld inkjet printers in the market are designed to be used directly on objects. Depending on the ink type and device feature, the materials that they can be applied to are divided into two kinds, which are, porous (water absorbing) surfaces and non-porous (non-water absorbing) surfaces.
For printers that are designed for porous surfaces, you can use them to print directly on carton box, envelop, paper bag, cloth, wood, cement wall, etc. While for the other, you can literally print on anything including the non-water absorbing smooth surfaces such as PE bag, plastic bottle, aluminum foil, glass, acrylic, chinaware, metal, concrete and even egg!
Based on our recent survey, customers that buy our portable handheld inkjet printers mainly work in industries including food and beverage packaging, pharmaceuticals and healthcare, manufacturing, electronic parts, farming, transportation and logistics, warehousing, wood processing, retail store, coffee shop, you name the list!
Why marking protective masks? 
Now we know what handheld inkjet printers are capable of, we can easily see the benefits and wonders that marking a protective mask can bring.
● Avoid Confusion, More Hygiene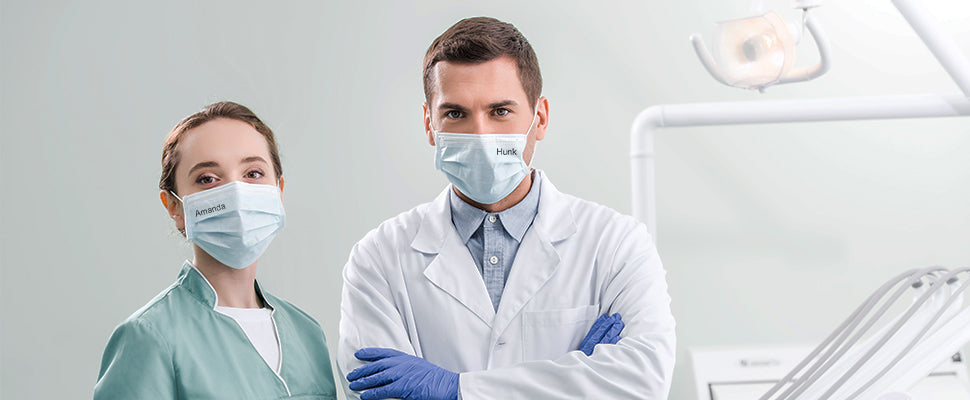 Under the current corona virus situation, putting on mouth-nose protection is a must. However, how to keep it in a hygiene and safe way is the key to health. Labeling name, personal design or logo of the mask owner on protective masks could be a great solution. With the eye-catching and clear prints, you can easily recognize your face mask and therefore avoid confusion or mix up yours with others.
● Advertising Medium, Arouse Cohesion
We all know putting on face masks can protect you from virus, but do you know that masks can also function as an advertising medium? By printing logo, website, QR code or even a slogan, motif of a company or organization on the masks, face masks can become a naturally fit-in advertisement wherever you go, especially in these times when protective masks are requested to be worn almost everywhere.
In the meantime, marking a mask can arouse the sense of cohesion of the workforce and optimize your public image as well. For example, prints funny quote, stylish motif or company logo on masks and have your employees to wear them can bring out your company culture and make the employees feel like they are on the same team, also this will have a positive effect on your customers as they will this as a team full of cohesion and unity.
● Ensure Product Authenticity and Traceability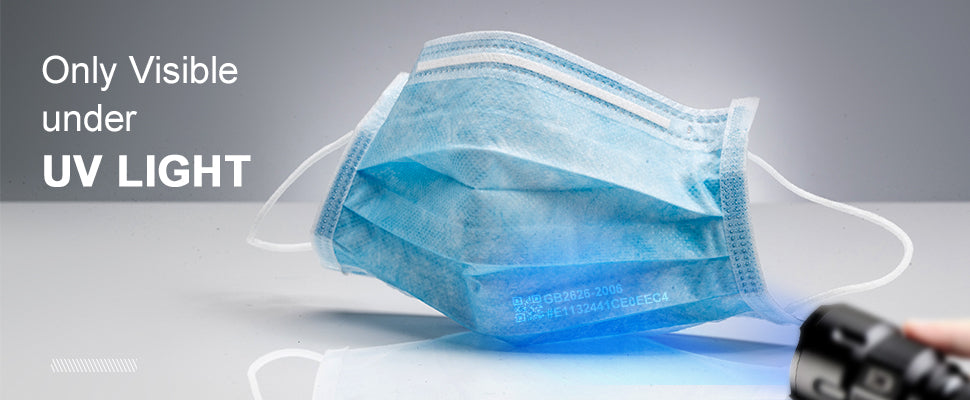 Handheld inkjet printers are extremely useful when it comes to product authenticity and traceability. For instance, manufacturers can print production information, lot number, production date and even QR code on the inside of protective masks for customers to check and scan the origin of the product. In the case of testification, the ink cartridges that used for the marking will also be the evidence to prove authenticity as inks from different brand will have different formula and way of manufacturing, etc., which leads to different print quality.
On top of that, by using invisible ink (which only visible under UV light) to print on protective masks, manufacturers can also maintain the good looking of their products while guaranteeing the traceability. A win-win solution indeed!
● Clearly Identifiable, Easy Classification
Marking masks also makes storage management and classification easier. Clearly print masks with the information intended for specific persons or situations helps companies, stores, hospitals to identify the items easily and manage them in a more organized way.
Why are v4ink BENTSAI portable handheld inkjet printer perfect for protective mask printing?
There are many types of handheld inkjet printers in the market, but why choose us and what makes us stand out for marking on protective masks? We will show some of the main reasons below!
● Reliable Rub-resistant Ink
Serving as a protection shield to protect our nose and mouth from virus and the environment in general, the quality of the each material of the masks should be guaranteed, including the ink that will be used on the masks.
v4ink BENTSAI ink cartridges are produced under strict standard and dust-free workshop, meanwhile, each components of our ink goes through at least 7 producing tests, including printing quality inspection, life span test, endurance test, torsional test and drop test, etc. to ensure the premium and stable print quality. 
Here at v4ink, we provide two types of ink cartridges for different printer models: water based and solvent based inks. Both are rub-resistant, durable and reliable. The quick-drying and smudge-proof ink of our handheld inkjet printers guarantees precise results and a high-quality look. While guaranteeing the look, our ink doesn't have a very bad smell that stays long as well.
● Wide Applicable Printing Surfaces
From mini size to wide format, v4ink BENTSAI portable handheld marking printers can be applied on various types of porous and non-porous surfaces. Whether it's a makeshift mask, fabric mask or other respiratory protection half-masks, our handheld printers print reliably and precisely on all materials.
● Beginner Friendly, Easy Operation
v4ink always takes user experience at our core concern, therefore all our mobile handheld inkjet coder machines are produced according to ergonomics and user experience after thorough survey and market research.
For handheld printers that are equipped with a touch screen such as BT-HH6105B2 coding printer and B85 wide format handheld printer, we make sure their control panel is high definition, easy to understand and simple to operate, so any untrained personnel can master our printers after a short instruction.
●

 Auto Batch Printing on Assemble Line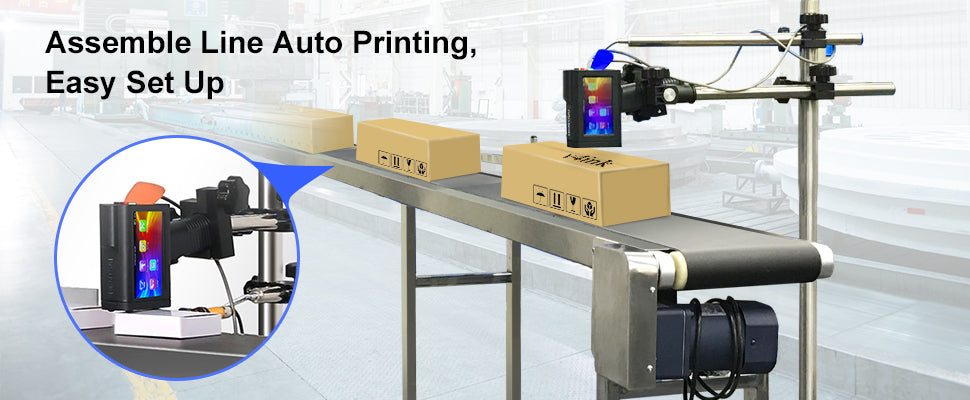 With proper and easy set up conveyor belt, bracket printer holder and photoelectric sensor, you can easily realize auto batch printing with v4ink handheld inkjet printers. Whether it's printing company logo, batch number, production date, QR code, barcode or product information, etc. on the protective masks or the product package, v4ink's robust mobile inkjet printers can always fulfill your needs while lowering the labor costs.
v4ink BENTSAI has rich experience in manufacturing ink cartridges and handheld inkjet printers. Over the past 3 years, v4ink has helped thousands of small to medium size business owners in different industries and sectors to label and mark on their products, streamline workflow and save labor costs.
If you own a small to medium business and are seeking for an alternative for labeling your products or carton boxes, start your journey with v4ink now! We've prepared all sorts of printing solutions for you!
Contact v4ink Today
☎️: (855) 666-8844
✉️: support_team@v4ink.com
📘: https://www.facebook.com/v4ink​​
🕊️: https://twitter.com/v4inkjet​​​​